The New Testament for the Anyi People, Language, and Culture
Good News! The New Testament has been printed and delivered to the CATA literacy centers in the Ivory Coast. Read the exciting story in the 2017 Mission Trip Report and watch the wonderful video slideshow of the trip.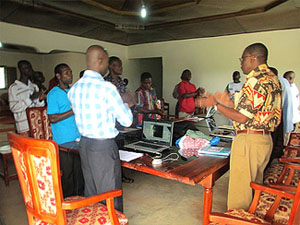 Welcome! This website provides information about the Anyi people of Cote d'Ivoire and the strategies being used to modernize and revitalize their language. The modernization efforts include Scripture translation and adult literacy classes. This is a forum where ongoing linguistic and cultural research is posted. You can also learn to read Anyi by downloading various materials available on this website.

Click here to help print the New Testament in Anyi!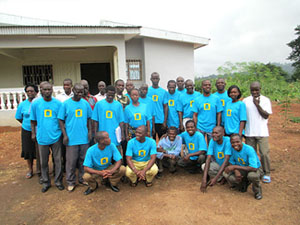 Bienvenue! Ce site a pour but de promouvoir le peuple Agni de Côte d'Ivoire et de donner des informations sur la modernisation et la planification linguistique en cours. Les stratégies utilisées pour atteindre ces objectifs sont la traduction des Saintes Ecritures et l'alphabétisation en milieu rural. Les travaux de recherche linguistique et culturelle sont affichés sur ce site. Vous pouvez lire l'Agni en téléchargeant toutes sortes de matériels didactiques.
Why Is Anyi Bible Translation So Important?
Literacy did not take root in Western Europe until the Scriptures were translated into the various European languages. There is irrefutable evidence that this is the surest path to widespread literacy. We have chosen this approach with the assurance that God will bless the Anyi people with literacy as He has done it throughout history for other people groups.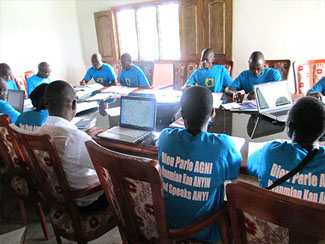 L'alphabétisation ne s'est enracinée en Europe que lorsque les Saintes Ecritures ont été traduites dans les langues Européennes. Des preuves incontournables existent qui démontrent que la voie la plus sûre pour l'alphabétisation de masse passe par la traduction biblique. Nous empruntons cette voie avec l'espoir que Dieu bénira le peuple Agni par l'alphabétisation comme il a béni les autres peuples.
How Does CATA meet this need?
The CATA is a French-based acronym. It stands for the Anyi Literacy and Translation Center. It is the literacy arm of the Anyi project. It implements literacy strategies, recruits and trains teachers for adult literacy programs in Anyi villages. The CATA training center is near Bongouanou. A dorm can accommodate up to 17 people who stay on the premises for week-long training workshops. A multipurpose pavilion serves as a cafeteria, meeting place, and a classroom.
Le CATA est un sigle qui signifie "Centre d'Alphabétisation et de Traduction en Agni. C'est l'agence qui se charge de l'alphabétisation en milieu rural. Il exécute les stratégies d'alphabétisation, recrute et forme les alphabétiseurs pour le milieu rural. Le centre de formation du CATA est situe a quelques kilomètres de Bongouanou. Le dortoir peut accueillir 17 personnes pour une semaine de formation en ateliers de courte durée. Une salle polyvalente sert de restaurant, de lieu de conférence, et de salle de classe.