How Can I Partner With CATA?
Dr. Ettien Koffi, a member of Westwood Church in St. Cloud, Minnesota and a professor at St. Cloud State University, began this ministry in 1991 when he started to translate the New Testament Bible into Anyi (Morofou Dialect), his native language. This language had remained an oral language until Dr. Koffi began to do the translation work.
In about 1997, Ettien enlisted his brothers to help him establish a literacy program so that, as the Bible was completed, the Anyi people could begin to read the Word of God. The draft of the New Testament was completed in the spring of 2011 and has been going through an in-depth examination before sending this work to be printed. In the meantime, the literacy program has been growing. There are currently more than 55 adult literacy classrooms in Eastern Ivory Coast.
Without donated funds and monies raised through fundraisers such as this bike-a-thon, the literacy classes could not continue. Thank you for your participation/contribution towards this Anyi Translation and Literacy Ministry!
The Anyi literacy project is funded by a couple of churches, my wife and I, and a few friends of mine. My goal in the next 5 years or so is to find 1,000 Anyi speakers who will contribute $25.00 a year to support the Anyi project. Until then, we depend on donations from US churches and individuals. We welcome your tax-deductible donations. Your contributions can be sent to: Anyi Literacy and Translation C/O Advancing Native Missions, P. O Box 5303 Charlottesville, VA 22905 USA. Do not forget to write "Anyi 536" in the memo of your check.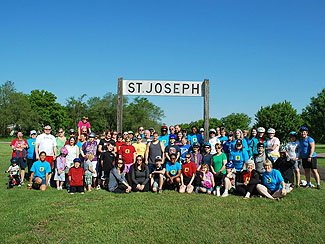 Les fonds de fonctionnement du projet d'alphabétisation en Agni proviennent essentiellement des dons de quelques églises, d'amis, et de ma famille. Mon souhait pour la décennie à venir est de trouver 1000 Agni qui peuvent supporter le travail financièrement. Si chacune de ces 1000 personnes donnent 10,000 CFA par an, cela nous permettra de continuer le travail et de faire de grands progrès en faveur du peuple Agni. Si vous désirez nous aider financièrement, veuillez contacter le webmaster pour plus de détails.